Dental Implants – Newbury Township, OH
The Most Comprehensive
Tooth Replacement Method
Always on the forefront of dental treatment, Dr. Jason Majors has kept up with various ways to make your smile better. One of the most modern and popular ways to help you maintain a healthy smile throughout your entire life is with the use of dental implants. Dr. Majors can both place and restore dental implants at our Newbury, Ohio dental office. With dental implants, you can have tooth replacement that's beautiful and strong and lasts a long time. And this tooth replacement method offers great benefits for the health of your jaw and the shape of your face!
Why Choose Jason D. Majors, DMD for Dental Implants?
Placement Portion Performed In-House
Natural-Looking Restorations Made from Porcelain
Detailed Treatment Planning Via Cone Beam Scanner
Benefits of Dental Implants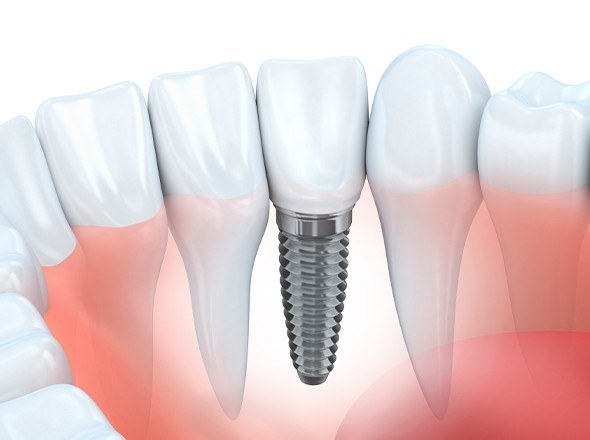 Dental implants are highly recommended for replacing missing teeth because they are so like your natural teeth. They rely on titanium posts surgically implanted in the jawbone, a lot like natural tooth roots. Upon these dental implants, lifelike restorations are attached, filling in gaps left by lost teeth. The result is extremely stable tooth replacement that feels comfortable and is highly functional.
Dental implants can be used to replace a single tooth, support a bridge to replace several teeth, or support a removable denture for greater stability. What are the advantages of dental implants? They're more esthetic and reliable than a fixed bridge and far more stable than a removable denture or partial denture. They prevent deterioration of the jawbone, which begins to happen when you lose a tooth root.
This means they also support a more pleasing and natural facial shape. When you wear a removable denture, your jawbone will slowly deteriorate over time, which will change the shape of your face. Your face will begin to sag and appear sunken. But with dental implants, this isn't a problem because the jawbone is stimulated by the titanium tooth roots.
Indications for Dental Implants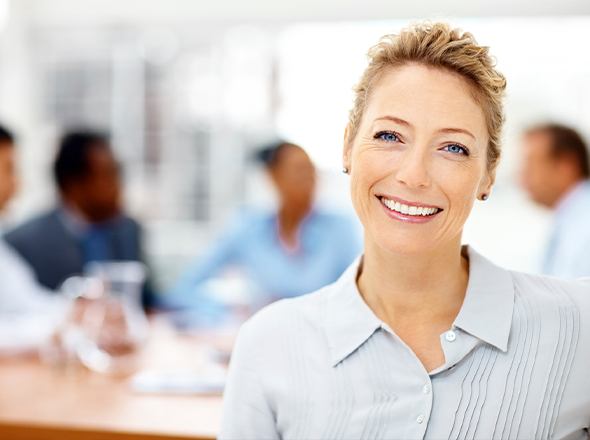 If you're missing teeth, you can't simply ignore the problem. Even if you feel that you can still eat and speak normally, a single missing tooth can cause more serious problems down the road. Missing teeth increases the likelihood of cavities and gum disease, causes changes in your bite, increases risks of TMJ dysfunction, and can lead to future tooth loss. With dental implants, you can replace teeth in a variety of ways, whether you need to replace single, multiple, or all the teeth in your smile.
Missing Single Tooth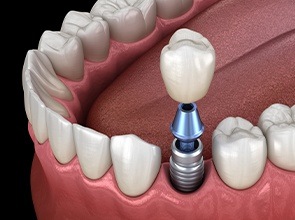 Replacing a single missing tooth requires one titanium dental implant to be placed directly into the jaw. Once the alveolar bone and gum tissue has healed around the post, we can attach an abutment, which is used to stabilize the porcelain crown that will eventually rest on top.
Missing Multiple Teeth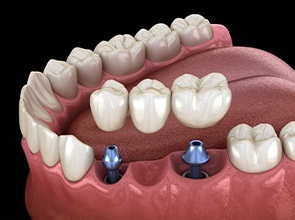 To replace multiple teeth, a dental bridge can be customized to fit on top of dental implants. To hold a three- or four-crown bridge, a pair of dental implants will be sufficient. Once the bridge is created, we'll place it on top of the implants and make sure that your bite feels even.
Missing All Teeth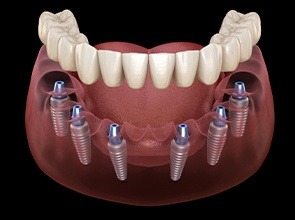 Dental implants are so versatile, they can even be paired with full or partial dentures to replace the teeth in your smile. When your denture is stabilized by dental implants, you can expect a restoration that feels more natural and remains stable for many years to come.
How Dental Implants Work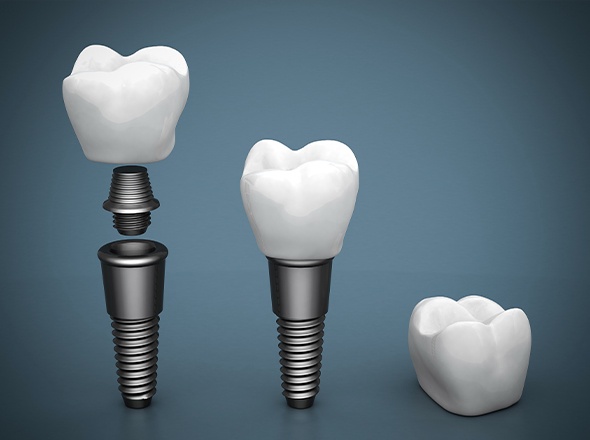 Dental implants consist of three separate phases. This includes the placement phase, the healing phase, and the restoration phase. During the placement stage of treatment, which we do perform in-office, we'll plan your treatment in advance and make sure that your implant is successfully integrating with your existing bone and gum tissue. Then, we'll create a restoration that rebuilds your smile from top to bottom. This start-to-finish convenience is sure to make your overall treatment much easier to complete. Keep in mind that the length of your treatment can vary depending on the complexity of your needs.
Understanding the Cost of Dental Implants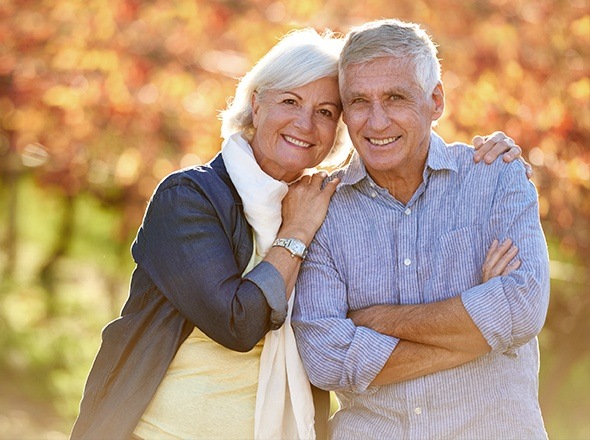 The cost of dental implants can be high, but it's important to keep in mind that the price you pay for treatment may vary widely depending on your specific needs. For example, a single dental implant will be cheaper than a series of dental implants designed to hold a full denture. Additionally, some patients may require periodontal therapy or bone grafting before they are eligible for treatment. With that said, your new tooth replacement should be seen as a long-term investment that lasts for decades, which means you should be saving money compared to other methods of replacing teeth.