ClearCorrect™ Clear Aligners – Newbury Township, OH
Get a Straight
Smile Beautifully
For comfort and beauty, nothing beats clear plastic orthodontic aligners for straightening your smile. While traditional orthodontics involve metal wires and brackets, making them obvious and irritating, ClearCorrect™ from Dr. Jason Majors in Newbury, Ohio offers an alternative that is smooth, clear, and comfortable.
Why Choose Jason D. Majors, DMD for ClearCorrect™ Clear Aligners?
Reliable and Well-Established Aligner System
Digital Impression Scanner Utilized In-Office
Detailed Treatment Planning by Experienced Dentist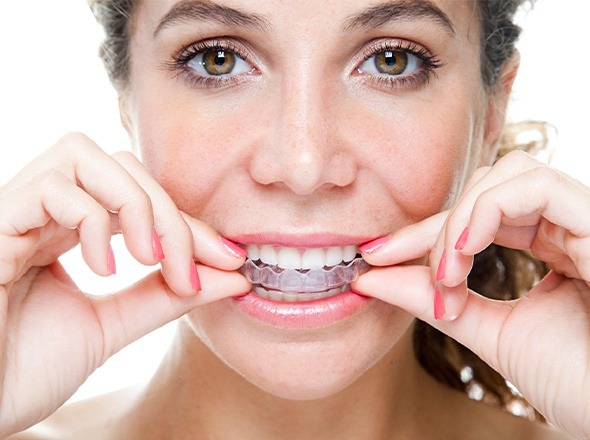 When you visit Dr. Majors for a ClearCorrect™ consultation, he'll discuss your smile with you to determine your goals and the trajectory of your orthodontic treatment. ClearCorrect™ can be used to address problems with crooked teeth, gapped teeth, crowding, crossbite, and overbite. If you've got TMJ pain problems associated with bite problems, ClearCorrect™ may be able to help. Dr. Majors will examine your smile and have an in-depth discussion with you to discover the root of your problem and determine how treatment should progress.
Information about your smile and your end goal are sent to the ClearCorrect™ labs, where computers are used to design a series of clear plastic orthodontic aligners. There are "phase zero" aligners that do not make any changes to your smile, but instead get you used to wearing the ClearCorrect™ aligners as treatment begins. As you progress through various phases of ClearCorrect™ treatment, you return to our Newbury dental office to receive your next set of aligners.
You're supposed to wear your ClearCorrect™ aligners all the time, taking them out for eating and oral hygiene like brushing and flossing. Because they're so clear, few will ever realize you're undergoing orthodontic treatment. Being smooth, they don't cause the soft tissue irritation that's so often a problem with metal braces.
Are you considering orthodontic treatment? Consider ClearCorrect™ from Dr. Jason Majors in Newbury, Ohio. If you'd like to meet with Dr. Majors and discuss your treatment, contact us to make an appointment. We offer ClearCorrect™ to Newbury, Chardon, Chagrin Falls, and other nearby Ohio communities.