CEREC® One-Visit Crowns – Newbury Township, OH
Get a Crown in a Single Appointment!
Dental crowns have been used for decades to correct problems with broken, chipped, or severely decayed teeth. Inlays and onlays can be used when a porcelain filling makes more sense than a tooth-colored composite resin filling. Porcelain crowns, inlays, and onlays created in a dental lab can take a few weeks to complete. First you'll visit the office, have your teeth modified to make room for the restoration, and then have an impression made. This impression is sent away to the lab, while you leave the office wearing a temporary restoration. With CEREC one-visit crowns, inlays, and onlays, we cut out the middle man. Instead of sending off your information to have your dental restoration created by a dental lab, a machine creates the restoration right here in our office! CEREC one-visit crowns are created by computer technology that makes it possible to have the entire process completed in just a single visit to Dr. Jason Majors' Newbury, Ohio dental office.
Why Choose Jason D. Majors, DMD for Replacing Missing Teeth?
Single and Multiple Tooth Replacement Options Available
Dental Implant Placement Performed In-House
Advanced Cone Beam Scanning Technology Utilized
What Are the Benefits of CEREC One-Visit Crowns?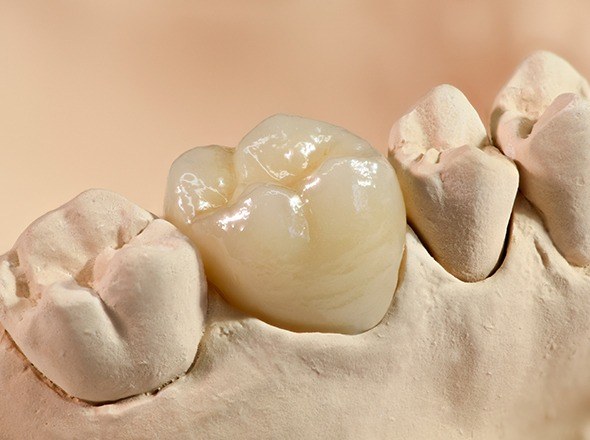 The convenience of a single visit
No need for temporary crowns
Beautiful results made of natural-looking porcelain
Blending with your beautiful smile
Metal-free dental restorations
Strength and durability
How Are CEREC One-Visit Crowns Made?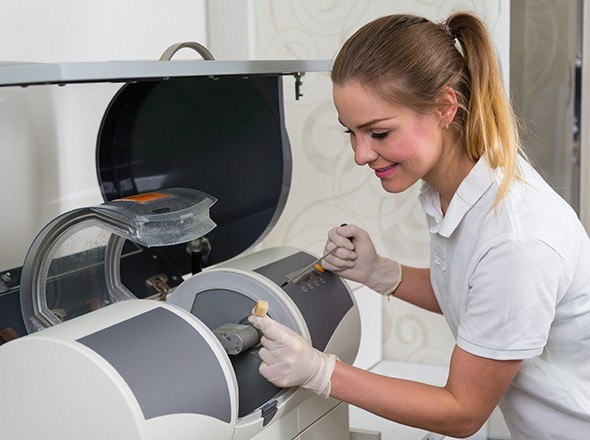 When you come to our Newbury dental office for CEREC one-visit crowns, computer technology will be used to create a digital "impression" of the tooth or teeth that need to be crowned. This impression is sent electronically to a machine that then shapes crowns, inlays, or onlays from a block of porcelain. The CEREC technology can also color-match the dental restoration to your smile, meaning that you don't lose any aesthetic benefits when you elect for this speedy restorative dental option. Once the machine has crafted your porcelain dental restoration, Dr. Majors can place it, and the entire process is complete. You have a whole smile once again, and all in one visit.