Children's Dentistry – Newbury Township, OH
Even the smallest members of
your family need healthy smiles.
Children need general family dentistry care as well, and we will begin seeing your child as soon as he or she has some baby teeth and can tolerate sitting still for the length of a dental visit. This is generally between the ages of two and five. Dental care during the early, formative years can instill in your child a lifelong understanding of the importance of oral health, and we can also set the stage for anxiety-free dental visits down the road.
Beginning around the age of three – earlier if you notice any kind of problems or later if your child is unable to handle sitting still for the length of a short visit – Dr. Majors will start your child out with twice yearly children's dentistry checkups and cleanings. These visits allow Dr. Majors to keep an eye on your child's oral health and development, make recommendations about home care, and answer any questions you might have about your child's smile. These early children's dentistry visits are usually quick and simple, involving a visual exam and gentle cleaning.
Why Choose Jason D. Majors, DMD for Children's Dentistry?
Accommodates to Patients with Special Needs
Dedicated to Creating a Relaxing and Welcoming Office
Provides Nitrous Oxide for Nervous Patients
Dental Checkups & Cleanings for Kids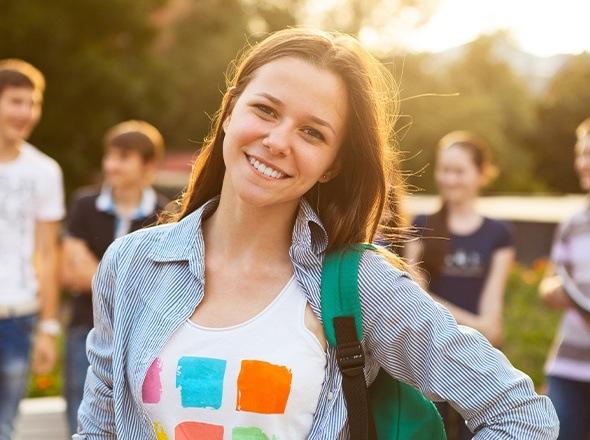 Our office accommodates children of all ages, regardless of the treatment they need to have completed. During your child's first checkup and cleaning, we'll likely spend more time discussing at-home oral care habits, future treatments to consider, and dietary restrictions related to oral health. As they age, we'll dedicate more and more of the visit to closely examining their teeth and gums as well as removing plaque and tartar wherever present.
Dental Sealants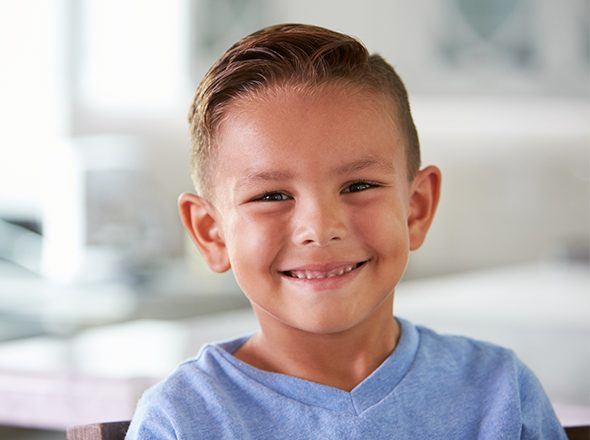 Does your child struggle with cavities? Are they finding their oral care routine difficult? Dental sealants work to protect developing teeth, especially those with deep pits and fissures for food debris, plaque and bacteria to get trapped in. Sealants are made from composite resin, a mixture that combines glass and plastic to form a durable and long-lasting bond. Once applied and hardened on teeth, your child can practice their oral care with greater peace of mind, as the sealant lasts for about 10 years before requiring retreatment.
Silver Diamine Fluoride Treatments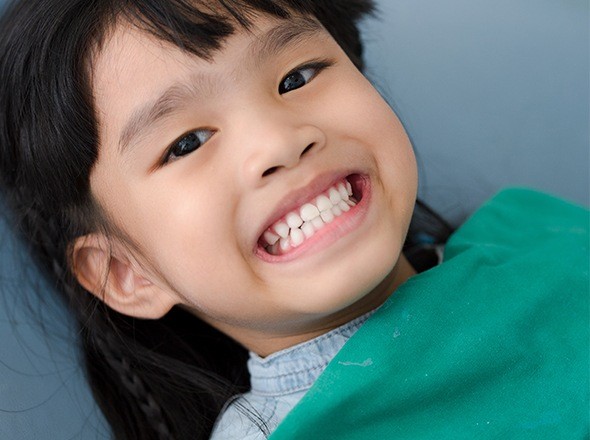 Similar to traditional fluoride treatments, silver diamine fluoride (SDF) is designed to protect teeth from cavities. However, this treatment takes the protection a step further because it is directly applied to teeth that are currently affected by a cavity. SDF works to prevent the spread of additional cavities and, in some cases, has proven to be more effective than fluoride varnishes at reducing cavity growth. It also tends to require fewer treatments over time.
Fluoride Treatments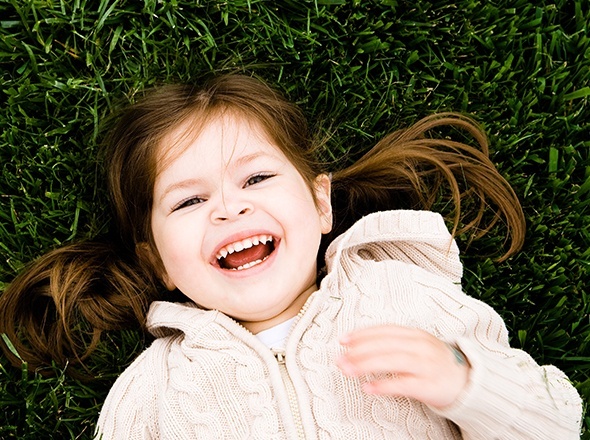 Basic fluoride treatments are performed as part of your child's routine cleaning. It's mostly a preventive measure designed to restore minerals to tooth surfaces where bacteria may have damaged tooth enamel. It also prevents the growth of bacteria and future cavities. Treatment is typically performed immediately following your child's cleaning and exam. We may recommend a fluoride treatment once every 3, 6, or 12 months, depending on your child's current oral health.
Tooth-Colored Fillings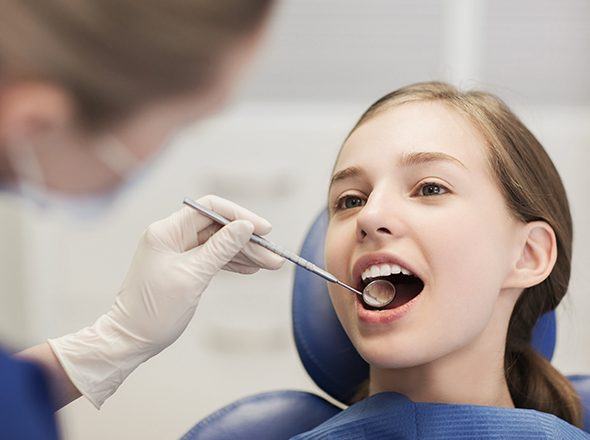 Has a cavity gotten the better of your child? The good news is they don't have to settle for the silver amalgam fillings that you may have grown up receiving. Instead, our office uses composite resin material to restore your child's tooth, all without sacrificing it's natural-looking appearance. After carefully molding the resin inside of their tooth, we harden it using a painless curing light. Treatment only takes one appointment to complete and ensures that your child's tooth does not worsen in condition.
Athletic Mouthguards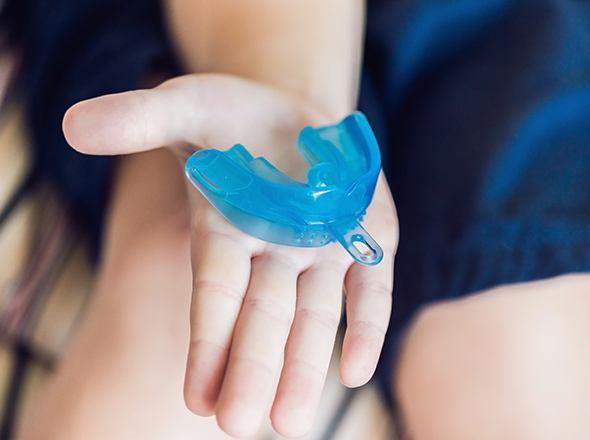 It's important for your child's health that they be active. But playing sports or participating in rigorous physical activities puts smiles at risk, increasing the likelihood of dental injury. As part of our general family dentistry, we offer custom-made athletic mouthguards to help keep dental injuries from causing advanced or permanent damage. No matter your child's age or skill level, if they participate in sports, consider custom athletic mouthguards to protect their smile.
Special Needs Dentistry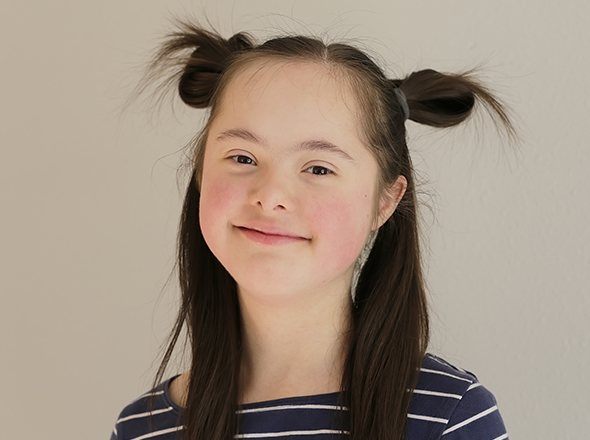 All patients deserve quality dental care that meets their needs, regardless of age or ability. Dr. Majors takes this very seriously, which is why he and his team always take the time to accommodate young patients with special needs. Whether this means providing sedation dentistry or making them feel more comfortable transferring to the dental chair, our team is more than prepared. We ask that all parents bringing children with special needs call us ahead of time so we can best accommodate you.
Frenectomies/ Lip & Tongue-Tie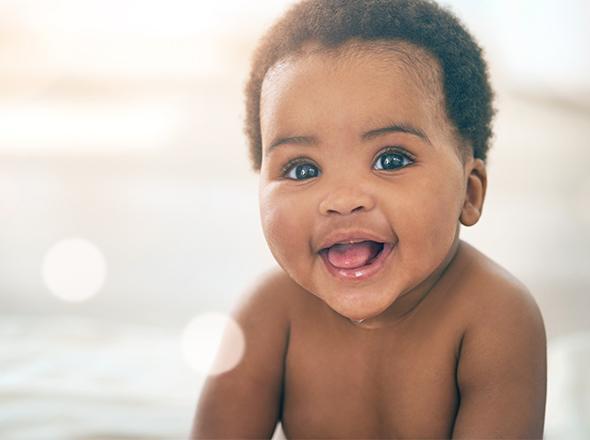 Does your child have difficulty latching during breastfeeding? Are they struggling to eat the foods you provide them because they don't have full range of motion in their mouth? In some cases, the tissue that attaches their lips and tongue to oral structures can be oversized, making it difficult to perform basic actions. With laser dentistry, we can gently and painlessly modify this tissue, making tasks like chewing and breastfeeding much easier.
Pulp Therapy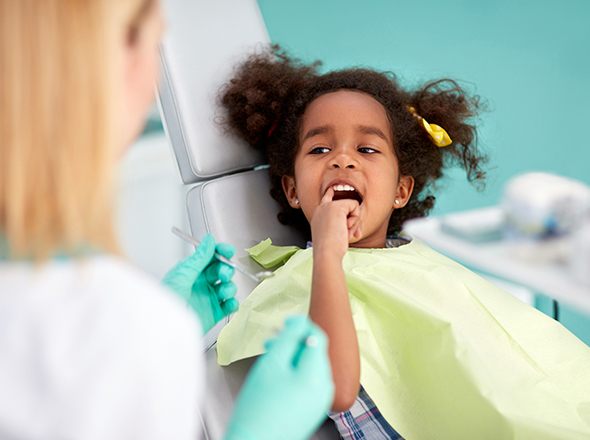 When a bad fall occurs and your child's tooth is damaged, sometimes the pulp inside of the tooth is at risk as well. In order to save the tooth, whether it's a baby tooth or a permanent one, we can perform detailed pulp therapy. This treatment is designed to protect, restore, and save a tooth's most vulnerable structures, especially the pulp region, which is responsible for providing nutrients to the tooth.